Complete the package. Our standard packaging for our Soho, Fine Art and Galleria is an elegant, black leatherette stitched box with felt lining. The Essex, Essex Plus, Bowery and our stock line comes in a black textured board box. All books are wrapped in a grey microfiber pouch before packaged in its box. Packaging upgrades are available. Please inquire about special options.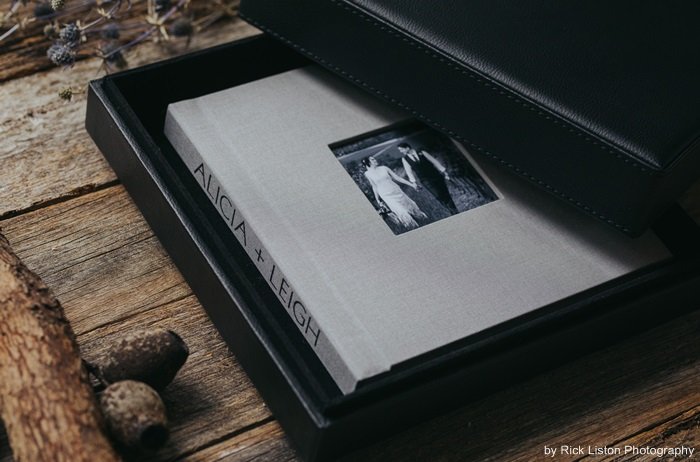 Black Stitched Box
A black stitched box made of synthetic leather that comes standard for our thicker paged custom albums (Soho, Fine Art, and Galleria). They feature fine stitching, felt lining, and allow for imprinting both inside and outside of the box for an added touch of customization. Always store your album inside of the grey pouch included.
Deluxe Presentation Box
A completely custom & handmade box that's crafted to perfectly fit and match your album. A Deluxe Presentation Box is the ultimate way to showcase, store, and protect your album for years to come. This box features a ribbon drawstring and also allows for imprinting both outside and inside of the box. Available in Standard sizes only, for Soho, Fine Art, Galleria, and Bowery. Please allow for an additional 1 week to in-house production time.